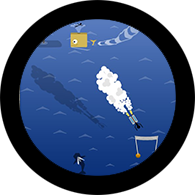 This was another request from the every busy and ever awesome Sam Hutchinson. A Little Bit Racey started off life on Bournemouth Universitys Nerve Radio after Henry Fosdike decided he wanted a game show.
The premise is simple. Contestants have to travel from point A to B with a variety of objects, a celebrity companion and ever-more unlikely forms of transport to prevent a hilarious disaster scenario, all whilst another contestant tries to undo their logic as they travel. It's fun, I did it once.
Well, A Little Bit Racey is the first show to make the jump from student radio to actual radio and I was asked to make a logo for the advertising campaign. There are so many themes to play with in this project,Everything is so unlikely that you can just let your mind run wild. And so I did.
I first scribbled down a dirt track that spelled LBR, and then Photoshopped different terrains over it. Over the next few days I had the most fantastic time creating the strangest methods of transport I could thing of. My favourite was the Jet-powered Penny Farthing.
Put it all together and you have insanity, which, for once, I was actually shooting for.