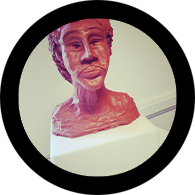 This post has been migrated from its original home to here. It originally lived at
this location
.
"In computing, ambient intelligence (AmI) refers to electronic environments that are sensitive and responsive to the presence of people". Thanks Wikipedia, couldn't have said it better myself.
Ambient computing is all around us and it comes in many forms. One form you may be familiar with is the location-based services on your mobile phone. Google Now, for example, takes where you are, your most recent searches, your personal habits (places you've eaten, amount spent etc.) and will recommend restaurants that you might like to go to after the cinema. (Which it knows you bought a ticket for because you got a receipt in the email, and besides, it's Wednesday! It's movie night!)
You never directly input any of this information; an algorithm observes you and your tastes and tries to help you out before you even realise you want help in the first place.
This form of ambient computing is known as "anticipatory" and it's just one way that AmI has made it into our lives without us even realising – after all, that's the point.
The best way to learn more about a topic is to dive straight in and make something, so we made Ambient Lionel.